Welcome to the Around the World Interview Series on Ordinary Traveler! Every couple of weeks we will have a new guest who has either lived or spent an extended amount of time in a particular country. Each guest will give valuable insights and tips to a different destination around the world.
This week, Hecktic Travels share their Colombia travel tips!

How long did you travel in Colombia?
We were in Colombia for just over a month last year and moved from the southern border with Ecuador all the way up to the Caribbean coast.
Budget tips for Colombia?
There are some really inexpensive options for flying within the country – sometimes costing the same as a bus trip, or only slightly more. One thing that we also found very strange but were glad to know – if you book a return flight (as opposed to one way), it sometimes actually costs less. So even if you have no intention of taking the return flight, check the cost of it anyways and you might save some big dollars.
Favorite experiences in Colombia?
It's not high on many people's list, but we really loved our experience in Popayan. It is a small city in the south, known as "La Ciudad Blanca" (the white city) as the historic center is completely whitewashed. We happened to arrive during Semana Santa (Easter), not realizing that Popayan is where all the Colombians flock to for celebration. We lucked out to even find a place to stay, and were sure glad we did. They put on an amazing procession where the streets were lined with candles and elaborate platforms and statues were carried throughout the historic center. There were also great markets set up for the weekend, and a lot of really special performances throughout – we even went to a local piano recital.
It was also our first stop in Colombia and thus our first introduction to the incredible hospitality of the Colombian people. Locals would walk up to us on the street and shake our hand, welcoming us to their country, and thanking us for our visit. We were overwhelmed, and loving it!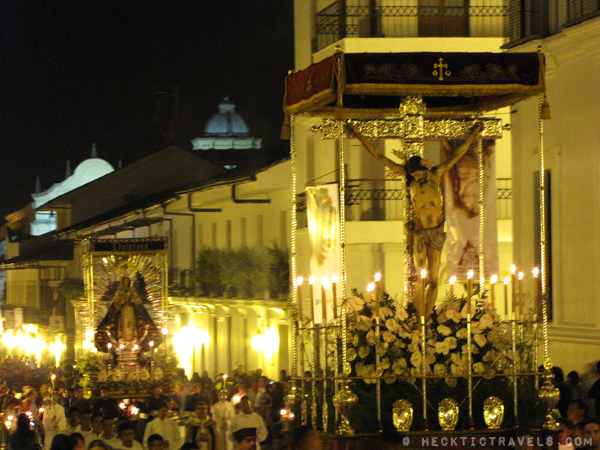 What is the food like in Colombia?
The food in Colombia was similar to many Latin American countries – the fixed meals usually consist of grilled meat or fish, rice and beans, and plantains. However, they also had some interesting local recipes that we loved – our favorite being buñuelos, a deep fried ball of dough and cheese – how can you go wrong with that combination?
Dos and don'ts regarding customs?
We never encountered any issues at customs, even at the border crossing with Ecuador which we were told could be quite "sketchy". We went with our usual strategy of pretending to not know any Spanish at all, and were waived through without question.
Favorite place to stay in Colombia?
In Medellin, we stayed at the most amazing little guesthouse (www.61prado.com) that cost less than the popular hostels – it was only $20 a night for our own very private room and bath with a large king size bed. It was real luxury and felt like a boutique hotel compared to some of the other places we stayed. It wasn't anywhere near the "tourist" area of Medellin, but we were quite fine with that.
Must-do activities or must-see sites in Colombia?
One of our favorite hiking spots in all of South America was just outside the small town of Salento, in the coffee region of central Colombia. The Valle de Cocura is a roughly 10 km hike through a wax palm forest (tallest palm trees in the world), and up to a hummingbird reserve. The views are really amazing, even though it got quite cloudy and we were rained on, we would recommend it as a must see for anyone.
Pete also did a five day trek in the northern jungle to the ruins of the Tayrona people known as La Ciudad Perdida (The Lost City). It was grueling given the topography and the hot, humid weather, but he loved every minute of it. I chose to stay back in Taganga – 5 days of hiking and sleeping in hammocks is not quite my idea of fun.
Safety tips, warnings or things to be aware of?
In the southern jungle surrounding the border with Ecuador, there is apparently still a large population of guerrilla fighters (FARC). Even though it is quite uncommon, there have been instances of buses being high-jacked. We followed the advice of only traveling during the day and had no issues at all. Colombia is much safer to travel in then most people think, and not once did we feel threatened or at risk.
While we were there, we would often see advertisements for Colombia tourism in other countries, their slogan being: "The only thing dangerous about visiting is that you won't want to leave." I think they are right.
Bio: Dalene and Peter Heck of Hecktic Travels are a Canadian couple who sold everything to travel the world. Dalene was schooled in business and spent her twenties as a corporate climber. Peter is a dreamer, an optimist, a self-made chef in training, a nerd, a beach bum, a music lover, an amateur of photography and a retired Certified Management Accountant (CMA). Together they had a dream of leaving their tired suburban life for a life of travel.
Stayed tuned for our next interview with tons of Syria travel tips!